What a great resource – Online Graphic Design Classes. Who would have thought 10 years ago that we could learn from anywhere.
In this article I would like to bring to your attention a great platform to do that – CreativeLive. Classes that offer the student the ability to learn at their own pace and in their own environment.
First let's take a look at the total picture of CreativeLive.
---
"Creative activity could be described as a type of learning process where teacher and pupil are located in the same individual."

Arthur Koestler
---
Online Graphic Design Classes – CreativeLive Style
As a graphic designer you may find that you need to brush up on your skills. As a beginner you will need to gain skills. Head on over to CreativeLive and find out what they have to offer.
On CreativeLive you can find many classes that will suit your needs. Today we will research what is available on the CreativeLive platform.
Once we enter the website we can find many areas of interest:
Photo & Video
Money & Life
Art & Design
Craft & Maker
Music & Audio
Within each of these categories you will find more specific categories such as:
Essentials
Genres
Techniques
Software
Entrepreneurship
Skills
Fundamentals
CreativeLive also offers free classes streaming 24/7. You can view the schedule for these free classes on the website. You can find something for your needs and plan to watch when it airs for free!
All in all CreativeLive offers over 1500 classes ranging from beginner to advanced. There are classes offered in many different areas of interest. You can buy a single class or choose a bundle. You can even buy a Creator Pass. The Creator Pass is available on a monthly basis or you can get it for the year. With the Creator Pass you will have full access to all classes on CreativeLive on-demand.
CreativeLive Community
In life we find that it essential to belong to communities. Just as in your personal life; you should have communities for your school and professional life. Community helps us relate to others and find support in our daily efforts.
---
"The need for connection and community is primal, as fundamental as the need for air, water, and food."
Dean Ornish
---
Within the CreativeLive Community you will find drop down categories:
Instructors
Stories
Podcasts
Events
Blog
Here you will find real inspiration reading about other's success through CreativeLive Online Graphic Design Classes. You will meet the instructors and browse through podcasts. Find out about events to attend a CreativeLive class live in-studio for free. (In Seattle or San Francisco)
Instructors are leading experts in their industry. From legendary entrepreneurs to Pulitzer, Grammy and Oscar winners. The instructors on CreativeLive are definitely qualified to teach and motivate the student.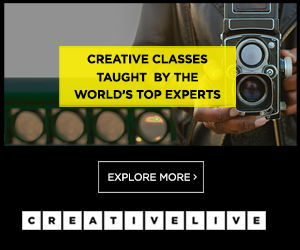 In the Stories section you will find success stories that will captivate and inspire you. Take some time to read some of these success stories to help keep you focused. You can even share your own success story as a CreativeLive student that has gone on to succeed.
The CreativeLive Blog has a lot to offer the graphic designer or enthusiast. The Blog has sections for every class subject on CreativeLive. You are sure to find some very interesting posts to educate and entertain you. A great place for inspiration.
Graphic Design Classes
We have found that there are a wide variety of classes offered at CreativeLive. Let's focus on the online graphic design classes.
Some of the Graphic Design Classes offered:
Adobe Indesign CC for Beginners
Color for Designers
Graphic Design Fundamentals
Logo Design
Intro to Adobe Illustrator
Branding
Drawing and Illustration Courses
There's so much to learn and in many areas that can help us in life also.
In previous posts on Graphic Spot we have discussed Adobe Illustrator Tutorials and Where To Find Graphic Design Ideas. You can find inspiration and classes on both of these subjects at CreativeLive also!
This is why the Creator Pass is such a great way to experience CreativeLive. Great Online Graphic Design Classes, along with the Community and Blog are why CreativeLive is a great asset.
For the graphic design student or professional alike. Finding your way as a graphic designer may seem very confusing at times.
 With resources like CreativeLive you will find inspiration for your next project or set your next goal. 
Here's hoping you will continue your journey in Graphic Design to find success!Please submit comments and post ideas in the form below, your opinions and tips are always appreciated. 
Virginia